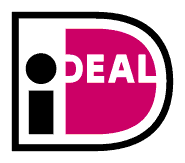 iDEAL
As a popular payment method in the Netherlands, iDEAL is fully integrated into the online banking environments of Dutch banks. Participating banks are: ABN AMRO, ASN Bank, bunq, ING, Knab, Rabobank, SNS Bank, Triodos Bank, RegioBank and Van Lanschot Bankiers.

Maestro
Maestro is the most commonly used debit card and a product of MasterCard. The payment method is accepted throughout Europe and in other countries worldwide. The amount paid is charged directly on the customer's invoice.

MasterCard
Since its foundation, MasterCard has grown into a global provider of credit and debit cards. A quarter of all credit card transactions are made with a card issued by MasterCard. With this credit card, you can reach potential customers all over the world. MultiSafepay is PCI DSS compliant and processes transactions according to the strictest security requirements.

VISA
VISA is the most popular credit card in the world. In 2015, the number of transactions processed by VISA increased by 11 percent compared to the previous year. With VISA, you can easily reach potential customers all over the world. MultiSafepay also supports multiple currencies and languages, making it even easier for you to enter international markets. MultiSafepay is fully PCI DSS compliant and therefore meets the strictest security requirements.